Top 5 Must See Beaches Close to Clarach Bay Holiday Village
Nostalgia often strikes when caravan holidays are mentioned - the majority of us have happy UK staycation memories filled with playing on the beach, walking around local town markets, and tucking into tasty local delicacies. There's something heartwarming and comforting about visiting a place with such happy holiday history.
But what's at the heart of a great caravan holiday? It has to be the local beaches. From children pebble collecting, to not so little ones enjoying a stroll and taking in the fresh air, the beach can be enjoyed by everyone, in many different ways. That's why we have collated a list of 5 local beaches ready for you to explore while staying at Clarach Bay Holiday Village.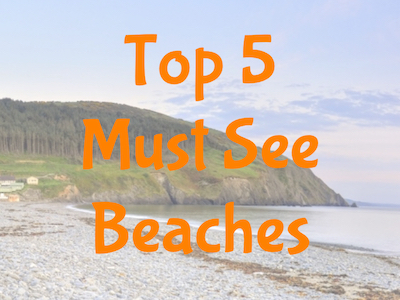 1. Clarach Bay:
Our very own beach right next to the caravan holiday resort. Clarach Bay is a relatively small bay on the coast of Ceredigion, mainly sand and shingle. The beach is backed by high cliffs. There are several great coastal walks, including a nature trail connecting Clarach Bay and Aberystwyth, along the cliff edge with panoramic views across Cardigan Bay. You can enjoy plenty of seaside activities such as swimming, windsurfing, surfing, sailing and canoeing in this sheltered bay.
2. Borth Beach:
4 miles North of Clarach Bay. The wide stretch of beach at Borth Village consists mainly of gentle shelving sand and shingle. The three miles of sand is backed for the most part by a pebble storm beach, and to the north by dunes. The beach activities stem around using the offshore winds and range from windsurfing, kite-buggying, kite-mountain boarding, kite-surfing and land-sailing. Also for swimming, there are lifeguards on duty during the summer months near the toilet block in the middle of the beach.
3. Aberystwyth North Beach:
Just over Constitution Hill to the south of Clarach Bay. The gently sloping sand and shingle beach rests in a reasonably well sheltered bay and is the departure point for daily boat trips to explore Cardigan Bay. A popular family beach with lot's to do such as donkey rides, bouncy castle and children's rides along the promenade. Water-sports include surfing, windsurfing, sea-kayaking, sailing and swimming. Lifeguards are on duty in the summer months.
4. Aberystwyth South Beach:
Situated to the south of the town, alongside the harbour and marina, this beach is a is a sheltered sand and pebble beach located between the Aberystwyth Castle and the Aberystwyth Harbour breakwater. The Harbour Trap is popular for experienced surfers only. Other Water-sports include sailing, windsurfing, sea-kayaking and swimming.
5. Llanrhystyd Beach:
10 miles south of Clarach Bay. A long rural beach popular with visitors and ideal for swimming, windsurfing and general leisure activities. Its possible to park right on the pebble bank behind the beach, accessible from a little road heading towards the coast, just south of the village of Llanrhystud on the A487. Ceredigion's beaches are renowned for their quality and cleanliness and the most popular bathing beaches are annual recipients of awards under several different schemes.

Now there's only one thing left for it - take advantage of our earlybird offers and book yourself a Clarach Bay Holiday!
Until next time,
The Team at Clarach Bay